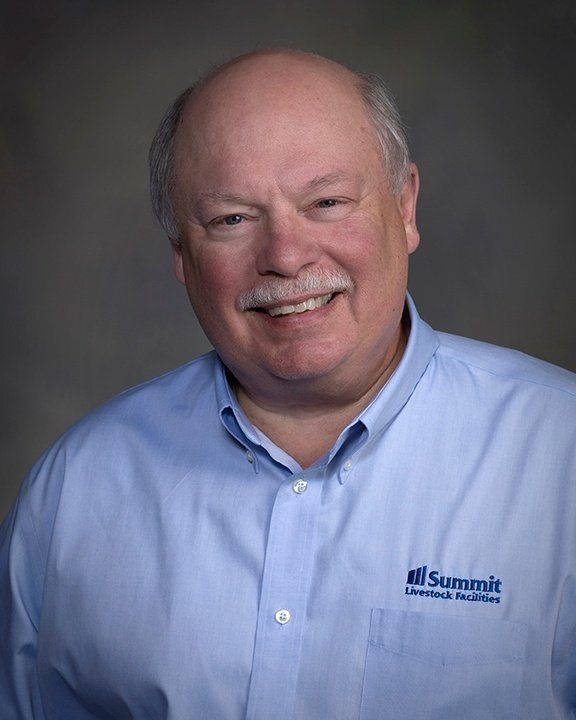 Design and Consulting Services
Summit Livestock Facilities and Dr. Ron Gill have jointly announced an exclusive agreement between the two whereby Dr. Gill will provide comprehensive cattle feeding facility reviews and low-stress cattle handling training for the customers of Summit Livestock Facilities.
According to Miles Ridgway, President of Summit Livestock Facilities:
"Our mission has been focused on improving feedlot profit potential for beef producers. And we recognize that the manner in which cattle are managed within these facilities is just as important as the design of the facility itself. This new initiative with Dr. Gill enables customers to provide a low-stress environment where cattle can thrive as they receive the benefits of excellence in stockmanship – a vital element in optimizing the health of cattle in indoor feeding facilities."
According to Dr. Ron Gill, a leading authority on cattle facilities design and low-stress cattle handling for indoor feedlots:
"It is widely known that excellence in stockmanship in a feeding facility that has been designed to reduce stress on fat cattle: optimizes the effectiveness of vaccinations and medications; makes issues such as lameness more easily identified and resolved; improves animal health; diminishes mortality rates; increases feed efficiency and rate of gain and therefore dramatically improves the profit potential of the cattle feeding operation."
Dr. Gill's mission is the same as Summit's – to help producers create and manage indoor cattle feeding environments where they efficiently raise healthy cattle in an environmentally sustainable manner – the first step in producing safe wholesome and nutritious beef.
The Dr. Ron Gill facilities design and low-stress cattle handling training package is exclusively available to the clients of Summit Livestock Facilities. For more information call (800) 213-0567 or visit our resource library.


Ready to learn more about our facilities? Request your FREE Improving Cattle Profits Info Kit Now.
---
Do you have more questions that are not covered in this article? If you need help designing and planning, please contact Summit Livestock Facilities at 800.213.0567 or click here to email us. If you are ready to get a price, click here to request a quote and a member of our customer engagement team will help you determine the next steps of your project.