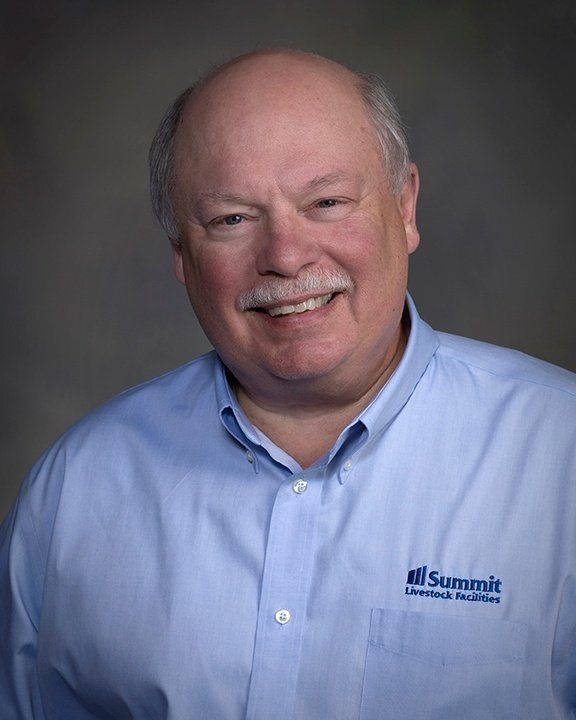 Need an Indoor Cattle Feeding/Finishing Solution?
"I'm a considering moving from an open feedlot to feeding cattle under roof. Where do I start?"
If you are a beef producer and investigating the pros and cons of an open lot and indoor cattle feeding/finishing you'll want to talk to Sam Odom, Divisional Manager for Summit Livestock Facilities.
Sam travels around the Midwest speaking to beef producers of various sizes. He offers loads of valuable information to help producers make tough growth decisions for their individual operations.
Sam's presentations focus on Monoslope housing facilities … specifically:
Advantages of Monoslope Facilities
Three Monoslope Housing Options
A Systems approach to Design and Construction
Approximate Total Project Investment
He also covers a few of the many economic forces causing the shift of feeding cattle (from the Southwest to the Midwest) such as:
The increasing worldwide demand for beef
The business opportunity associated with feeding DDGs
Ongoing poor growing conditions in the Southwest
In addition the risks of today's cattle market, consumer perception of our industry and higher feed prices are all among the many reasons why producers are being be very cautious about the design of the cattle housing structures they choose . . . and why the Monoslope design makes sense.
To contact Sam:
samodom@summitlivestock.com

630-750-4872 Mobile
Ready to learn more about our facilities? Request your FREE Improving Cattle Profits Info Kit Now.
---
Do you have more questions that are not covered in this article? If you need help designing and planning, please contact Summit Livestock Facilities at 800.213.0567 or click here to email us. If you are ready to get a price, click here to request a quote and a member of our customer engagement team will help you determine the next steps of your project.