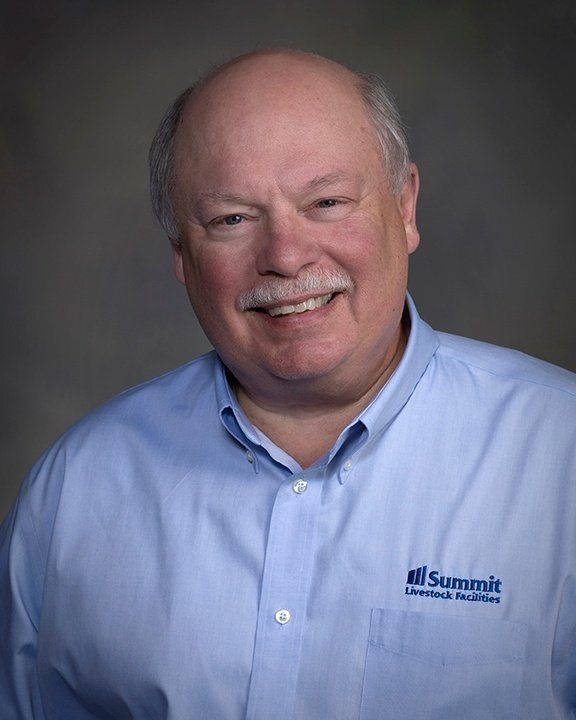 Summit Livestock Facilities Customer Featured on USDA Website
We're very pleased to see an article about Larry O'Hern, a Summit Livestock Facilities customer, featured on the website of Illinois Natural Resources Conservation Service.
Maurer Stutz Agricultural Engineers worked with Larry O'Hern and his family to help address resource concerns with their farming operation and take a step toward future sustainability.
As NRCS certified Technical Service Providers (TSPs) Maurer Stutz worked with Larry on development of his Comprehensive Nutrient Management Plan (CNMP). After many months of planning, the concept plan was developed through a team effort with Mr. O'Hern to include a new monoslope beef barn to house cattle that previously were raised on earth feedlots.
The monoslope barn features the Summit Livestock Facilities PacSlat Optimizer – a hybrid manure storage system including bedding pack housing with sloped scrape alleys on the ends of the barn, in addition to a fully slatted below building deep pit in the center. Maurer Stutz designed and developed plans and specifications of the waste system for state permitting and approvals.
The CNMP was submitted to NRCS and approved for cost share through the Environmental Quality Incentives Program (EQIP). To find out more see the feature story here.
Maurer Stutz provided construction phase services for quality assurance working with Summit Livestock Facilities to design and build the monoslope beef barn. Summit also provided total project construction management services.
The barn received its first calves in the fall of 2012 and closeouts continue to be great.
To find out more about the Summit Livestock Facilities PacSlat Optimizer click here or contact us!


Ready to learn more about our facilities? Request your FREE Improving Cattle Profits Info Kit Now.
---
Do you have more questions that are not covered in this article? If you need help designing and planning, please contact Summit Livestock Facilities at 800.213.0567 or click here to email us. If you are ready to get a price, click here to request a quote and a member of our customer engagement team will help you determine the next steps of your project.